Since becoming involved with Renaissance Festivals in l990, Kathleen Keefer has been making Renaissance Costumes. Kathleen makes a wide variety of clothing, from Noble to Middle and even Peasant classes. These are not "Off the Rack" items (we sealed off the Dungeon years ago), but are one of a kind according to the desires and dimensions of the customer.
Some examples of her costumes can be seen below. For more information and prices, contact Kathleen Keefer.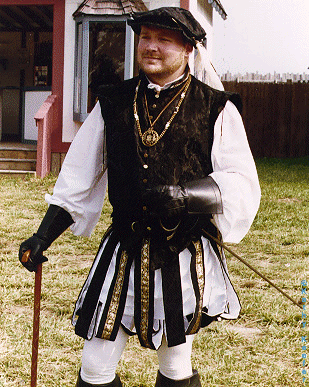 #1. Christopher Hatton (Played by Scott Miller) Doublet is made of black brocade, lined in fine wale corduroy. White "Court shirt" is made of 100% cotton - gathered at the neck and wrists. Pane hose, made of fine wale corduroy, lining in white satin, tied at the thigh. Ruff at the neck is lace and satin formed by hand. Flat hat of black brocade. Entire costume may be purchased for $445.00. Individual pieces as follows: Doublet - $200.00, Pane hose (Plunder hosen) $150.00, Court Shirt $45.00, Neck Ruff $20.00. Flat hat - $30.00.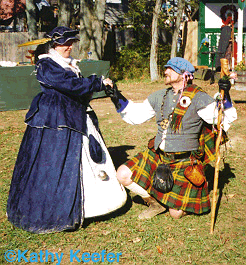 #2. Lady Anne Russell, Countess of Warwick (Kathleen Keefer) and Sir Alexander Clark, Lord Mayorof Willy-Nilly on the Wash (Robert Keefer). Lady Anne's costume is made of dark blue brocade, trimmed in silver cording. The bodice has a dark blue satin center. The underskirt is a silver brocade with gem stones and sequins hand sewn. Sleeves tie into bodice at shoulders and are of the same brocade trimmed with silver cord. Lady's white cotton "court chemise" is worn under.Flat hat trimmed with silver cord. Total cost: $505.00. Pieces as follows: Over and Under skirt -$250.00, Bodice with sleeves - $175.00, Court Chemise - $45.00, Trimmed flat hat - $35.00 The Lord Mayor costume was sewn by Robert Keefer. Doublet is made of gray wool and the kilt is hand made of MacMillan tartan. The kilt is of contemporary design (not a great kilt) for easy costume changes. For a hand made kilt please contact Robert Keefer at :
#3. Captain Oceanous (Chris Ready)- Velvet doublet with gold metallic trim. Tie in sleeves. This is a rather simplistic design and would be inexpensive is made out of something other than Velvet. Velvet doublet with sleeves - $150.00. Other fabrics - brocades, cottons,e tc. $50.00 to $125.00.
#4. Ambrose Dudley, Earl of Warwick, (Darren Lausa). Ambrose's garb is made of brocade - blue on black background. Doublet is lined in black satin. Sleeves tie in and are made of a different but complementary brocade. Pane hose are of the same brocade lined with Silver brocade. All trimmed in silver. Court Shirt, ruff and hat as above. Entire costume may be purchased for $400.00. Individual pieces as follows: doublet with sleeves- $250.00, pane hose $150.00, shirt, hat and ruff as #1.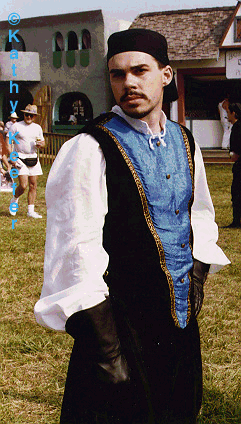 #5. Pirate - (Dave Willacker) black corduroy simple doublet with a blue jacquard inset. Ties at both sides into eyelets. Pants are long, peasant style, also of corduroy. Doublet with inset $50.00-$100.00 depending on fabric. Pants - $35.00 - $75.00 also depending on fabric.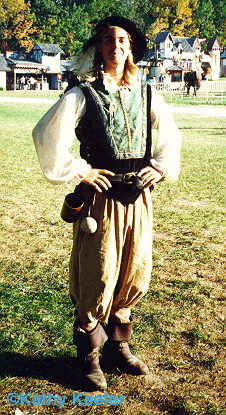 #6. John Dudley, son of Ambrose Dudley (Eros Coder) Same style as #6 with different inset - green brocade. Same basic price.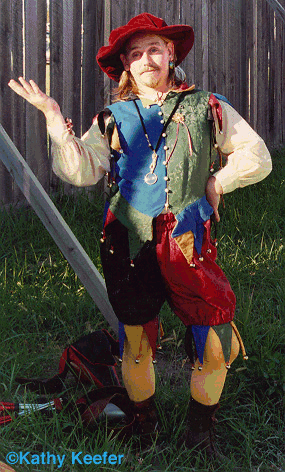 #7. Sir Thomas Thimbletoes, Jester. (Thom Bower) Costume is made of several different types and colors of fabric to create the Court Jester look. Fabrics used were: Corduroy, brocades, jacquard and cotton twill.Due to the intricacy of this costume, cost would be $500.00-$550.00, depending on fabrics chosen.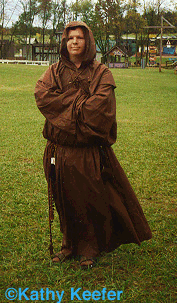 #8. Father Peter Pious (Shawn Martin) - Brown Monks robe with separate hood made out of 100% cotton broadcloth. Can be made out of heavier fabrics. Total Cost $250-$500 depinding on fabrics.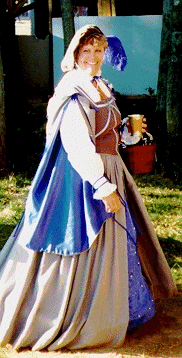 #9. Lady Anne Russell - '94 (Kathleen Keefer) Gray fine wale corduroy skirt and bodice with blue satin underskirt. Sleeves of gray corduroy, lined in satin are hand embroidered in silver and blue thread with sequins and gem stones. Cost for entire costume (without embroidered on sleeves) $225.00. Bodice with sleeves - $175.00, skirt and underskirt $250.00, Chemise, ruff and hat as above.
Also available: a wide range of peasant garb - bodice, skirts, hats, muffins, tunic (vests), peasant shirts for men and women. Bloomers, corsets (made to fit you!!), and chemises. All made from 100% cotton. I use "weathered" fabric if possible to give the fabric more of an authentic peasant look. Swatches sent if requested. Middle class costumes are also available, including one piece dress with underskirt and lace up front.
A catalog will soon be available!
---
This page has been visited
times.
---
Last Updated: 6/13/98